2020 Mid-Year
Tax Publications
Content and analysis you can trust
Just in time for tax year end – have the trusted answers you need quickly.
With many of the government's stimulus support related measures running through the tax system, find trusted answers in Thomson Reuters range of mid-year publications.
Our leading Australian Tax Handbook and other convenient tax related publications covering Superannuation, GST, CGT and Trusts provide the practical guidance and key developments you need to know about.
Be confident you can easily navigate the changes with analysis from a team of experts who are active in the industry. From anywhere, anytime online on Checkpoint or print – or both.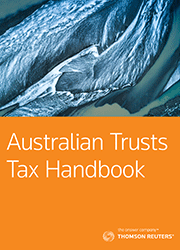 AUSTRALIAN TRUSTS TAX HANDBOOK
Online subscription
Contact Us >


The Australian Trusts Tax Handbook is a practical guide to the rules relating to the taxation of trusts.
It is streamlined to meet the needs of practitioners and advisers and brings together all the key trust tax provisions and concepts, with plain English explanations, definitions, examples, case studies, sample trust deed clauses, tips and alerts.
There are also step-by-step guides to calculating the income and net income of a trust; streaming capital gains and franked distributions; making effective trust distributions; and drafting distribution minutes.
What's New
New commentary on:

charitable trusts
managed investment trusts
disclaimers
the character of trust income
trust split arrangements
the CGT small business concessions.

Commentary updates include legislative changes and other new developments in the taxation of trusts, including:

denying foreign residents access to the CGT main residence exemption
the Commissioner's discretion to extend the two-year period for disposing of a deceased's dwelling
taxing family trust circular distributions at penalty rates.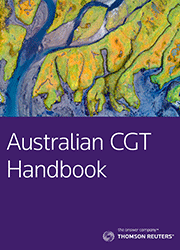 Authored by Chris Evans, Ann Kayis-Kumar and Tim Russell, the Australian CGT Handbook continues to be a well-respected, topic-based book offering a comprehensive coverage of the Australian capital gains tax provisions, together with realistic examples, crucial practical tips and warnings.
The publication's accessible style benefits practitioners when advising clients on the most common and complex CGT problems and helping them make sense of the provisions in a practical and relevant manner.
Current to 30 June 2020, the Australian CGT Handbook is the definitive guide to the CGT provisions as they operate in Australia.
What's New
Full coverage of the legislation, now enacted, that removes the entitlement to the main residence exemption for foreign residents and modifies the principal asset test in relation to taxable Australian real property
Enhanced commentary on the application of the main residence exemption for Australian residents in the context of the increased need to work from home in the light of the COVID-19 lockdown
The latest updates on other legislative changes, cases and Tax Office rulings affecting CGT
New Tax Office guidance on data matching initiatives and an up to date analysis of the CGT compliance focus of the Tax Office
Commentary on recent cases involving CGT, including the Greensill case.
---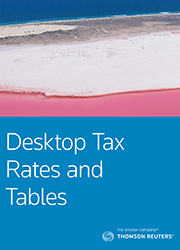 DESKTOP TAX RATES & TABLES 2019-20
Online subscription
Contact Us >


Desktop Tax Rates & Tables 2019-20 is a handy guide that can be customised to carry your branding, providing you with an effective promotional tool. An indispensable aid for quick access to the most commonly used tax rates, Medicare levy rebates, depreciation, FBT, superannuation and more, it is updated to include rates current to 1 June 2020.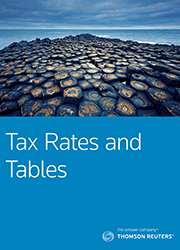 A reference guide that combines comprehensive coverage of Australian tax rates, Tax Rates & Tables offers a wealth of practical information and tools. Focused on both tax returns and tax planning, it includes rates for both the 2019-20 and 2020-21 financial years, where available.
The clear, succinct and easy-to-use rates and tables are logically organised in subject groups. Concise explanations and commentary of developments through the year are provided.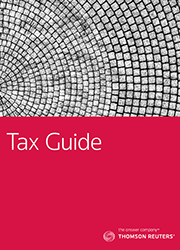 Online
Checkpoint Subscription
Contact Us >
TAX GUIDE
Thomson Reuters' Tax Guide is the cost-effective way to enhance your client relationships. Give your clients fast, timely access to key tax data in one concise resource and highlight your commitment to making their working life easier.
This handy PDF booklet allows you to add value to a broad range of clients, encouraging them to turn to you – not your competitors – for advice. Packed with helpful tax information, Tax Guide 2020 becomes a powerful promotional tool when distributed free of charge to your clients.
Tax Guide is available in your choice of three annual subscriptions:
Standard cover: a cover designed by Thomson Reuters, and features the 2020-21 calendar - downloadable from Checkpoint
Personalised cover: a Standard cover downloadable from Checkpoint, and an emailed PDF file, with your company logo, your practice details on the second page, and the 2020-21 calendar
Customised cover: a Standard cover downloadable from Checkpoint, and an emailed PDF file that is entirely designed to your firm's liking. Designed in colour with your practice details on the second page, this cover gives you the choice of completely controlling your marketing brand.
Updated annually in June, the 2020 edition features:
A summary of key Coronavirus measures, including JobKeeper payment, Cashflow Boost, and Depreciation measures
Developments to Watch in 2020-21
2019-20 and 2020-21 (where available) tax rates, tables, rebates and thresholds
2020 Tax Calendar.
Checkpoint
Content Product Demonstration
See why your practice needs a knowledge solution like Checkpoint in this digital era
2020 Catalogue:
Browse the entire 2020 Tax Publications range plus additional titles.
Are you a member of a professional association?
If so, you may be entitled to a discount on selected book publications. Simply contact your professional association for discounts available to you, and to obtain your promotional code.