2022 Tax AnnualsSecure your new edition of our
gold standard publications
When you need to find trusted answers quickly
With a constantly changing tax environment, save time looking for answers with access to Thomson Reuters' trusted range of tax and tax-related Handbooks and Guides.
Our leading Australian Tax Handbook, plus other convenient legislation volumes and tax related publications covering GST, CGT and Trusts provide the practical guidance and key developments you need to know about.
Be confident you can easily navigate the changes with analysis from a team of experts who are active in the industry. From anywhere, anytime online on Checkpoint or print – or both.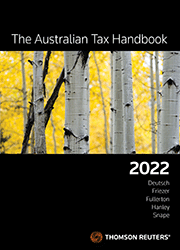 THE AUSTRALIAN TAX HANDBOOK 2022
Published continuously since 1955, The Australian Tax Handbook is a convenient volume covering the full spectrum of income tax law and related taxes.
The logical chapter arrangement focuses on making working life easier for practitioners and highlights all the important changes over the last 12 months. With clearly set out core tax principles supported by numerous worked examples and greater depth of coverage, ensures the tax system is easier to understand and apply in practice.
What's New in 2022?
Various small business tax concessions extended to medium-sized businesses
Temporary full expensing and loss carry back to be extended to include 2022-23
Medicare levy surcharge and health insurance offset levels frozen for another 2 years
ATO concession for working from home expenses extended to end of 2021-22
High Court rules "backpacker tax" does not apply to UK national who was a tax resident (Addy)
---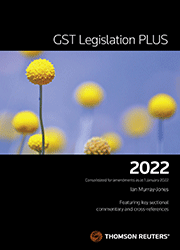 GST LEGISLATION PLUS 2022
GST legislation is complex and difficult to apply and interpret, even for experts and there is sometimes insufficient guidance for many of the important provisions. GST Legislation PLUS 2021 addresses the shortfall. It is the must-have resource for those who need to understand and interpret the GST law, and need to find the right information fast.
What's New in 2022?
Legislative Determinations issued for NDIS participants and for waiver of tax invoices and adjustment notes
Treasury Laws Amendment (2021 Measures No 5) Bill 2021 passed, includes changes to GST-free supplies of cars for disabled people
Commissioner's rulings on ACT land development, burial rights, beds and mattresses, and mining compensation payments
High Court decision in Travelex
Decisions about Div 142 and passing on (WYPF, M3K Services)
Burwood Property – commissions and rebates paid by casinos
Application of Div 165 to another gold smelting case (STNK)
Commissioner's decision not to exercise discretion to treat document as a tax invoice upheld (BSRJ)
---
AUSTRALIAN TAX LEGISLATION 2022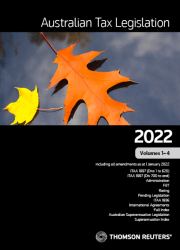 Book: Volume 1-3

Code: 43006941

Price $341.00 inc GST

Order now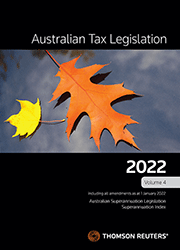 Book: Volume 4

Code: 43006889

Price $175.00 inc GST

Order now


Australian Tax Legislation 2022 consolidates all essential income tax and related legislation and amendments in force as at 1 January 2021 in convenient volumes. Set out in an easy-to-follow, logical layout, with history notes to aid interpretation of tax laws, you can choose from either the 3-volume income tax legislation set, the 4-volume set which includes tax and superannuation or purchase volume 4 (superannuation) separately.
Features
Concise history notes for all recent amendments to tax and related legislation
Logical, convenient organisation with fully consolidated index (volume 3) and superannuation index (volume 4), and subsection headings where appropriate
Structured layout and accessibility for users
Various acts including ITAA 1936 and ITAA1997, Tax Administration Act 1953, Superannuation Industry (Supervision) Act 1993, International Tax Agreements 1953 and Australia's Double Tax Treaties.
Australian Tax Legislation Volume Content
VOLUME 1 - ITAA 1997, pending legislation (if appropriate)
VOLUME 2 - ITAA 1997, Administration, Taxation offences, FBT
VOLUME 3 - ITAA 1936, Rating Acts, International tax agreements, financial transaction reports, overpayments and early payments, Main consolidated index
VOLUME 4 - Australian Superannuation Legislation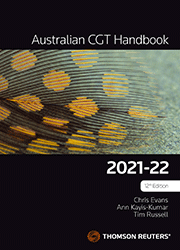 AUSTRALIAN CGT HANDBOOK
Well-respected guide, with comprehensive coverage of CGT provisions, examples and practical tips.
Online Subscription

Code: 41412892

Price Contact us

Order now
AUSTRALIAN TRUST TAX HANDBOOK
Practical guide to the rules relating to the taxation of trusts.
Online Subscription

Code: 41528332

Price Contact us

Order now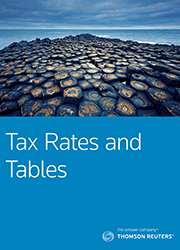 TAX RATES & TABLES
Comprehensive coverage of Australian tax rates logically organised in subject groups.
Online Subscription

Code: 41412988

Price Contact us

Order now
SWITCH ONLINE TO CHECKPOINT
In a digital era where information is freely available and unmonitored, avoid spending your time scrolling through blogs and websites not specific to what you need, to then having to further verify the information.
Having a source of authoritative and current information you can trust is essential. Checkpoint enables you to find answers and to quickly understand how those answers apply to the unique circumstances of your client or business, in one convenient location.
Whether in the office, in meetings or on the go - your tax subscription services can be on hand whenever and wherever you need to find trustworthy answers.
2022 Catalogue
Browse the entire 2022 Tax Publications range plus additional titles.
Are you a member of a professional association?
If so, you may be entitled to a discount on some of these products. Simply contact your professional association for discounts available to you, and to obtain your promotional code.